There has been a slight price increase of a £1 – £1.50 extra on all services.
This is due to all extra running costs and losses . I hope you all understand and i thank you for your loyalty
Fishers barbershop runs on a appointment based system. This works absolutely great!
No waiting times / no disappointment/ and a more personal feel.
To book an appointment please download the booking app (Fishers Barbershop) on Android or iPhone, Register and away you go.
You can also book via my website and by calling the shop 01473 713100
If you do turn up without an appointment I will do my best to accommodate you. I look forward to this new venture for Fishers Barbershop and I appreciate all your feedback and support.
Many thanks
Ross fisher
---
Fishers barbershop is an appointment salon offering barbering and mens hairdressing. At fishers barbershop we try and give a more personal customer service.
Fisher's Barbershop can offer traditional cut throat shaving, with optional hot and cold towel treatments for that special occasion or treat. As well as providing modern haircuts, trims, styling, colouring and highlights to adults and children. Barber Ross Fisher boasts over 15 years hairdressing experience and has a wide range of skills in both modern and traditional barbering techniques.
Opening times
Monday Closed
Tuesday 9am – 5:30pm
Wednesday 9am – 5:30pm
Thursday 9am – 7pm
Friday 1pm – 7pm
Saturday 8:30am – 4pm
Sunday Closed
We close between 12:30 – 1pm daily for rest breaks
326 Spring Road, Ipswich, Suffolk, IP4 5NG
01473 713100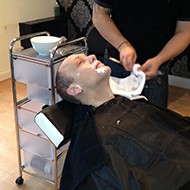 The salon also features off street car parking to the rear of the shop for your convenience.